9 Ways to Improve Your Website's Bounce Rate
Every business owner should know the answer to the following two questions: What is the bounce rate of my website? What is the conversion rate? If the bounce rate is high, relatively speaking, and the conversion rate is low, it's time to revisit the content on your website and the marketing strategy you follow to drive people to your site and keep them there.
First, let's review the meanings of the terms bounce rate and conversion rate. The bounce rate is the frequency with which visitors to your website – the home page or a landing page – bounce away without any type of interaction on your page and return to the site that originally referred them. The conversion rate is the percentage of visitors to your website who complete an action once they are on your website. That action could be buying something, downloading a coupon, completing a contact form to request more information – whatever you want them to do once they land on your website.
A high bounce rate means visitors to your site leave before you are able to convert them. The last thing a business owner wants is for a visitor to their website to leave without first taking time to look around. If you don't know what the bounce rates are for your web pages, visit your site's Google Analytics (under Audience Overview) to find out.
Here we look at 9 reasons why your website bounce rate might be high, and how to fix the problem.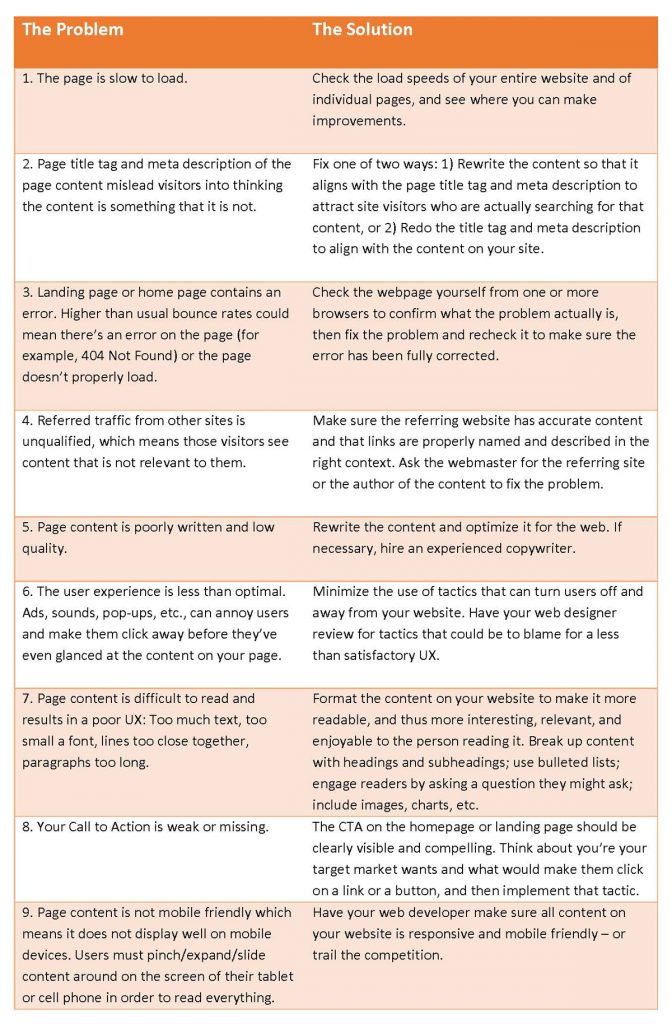 If you want to improve your website bounce rate, first make sure you understand what the current bounce rate is, then systematically address each problem and measure improvement as you go. Without a doubt, by improving the bounce rate, you also improve your conversion rate and the ability of your site to rank well in searches. At Perfexion, Inc. we specialize in making sure clients' websites are technically sound and perform to the best of their ability. We are a Philadelphia-based web design and development company located in Plymouth Meeting just outside King of Prussia.
Contact Us Today!
WEBSITE pfxn.com
E-MAIL hello@pfxn.com
CALL 610-783-7660
SAY HELLO