How Google's Search Console Helps You Improve SEO
If you are not already using Google's Search Console service to monitor how well your website is performing in Google searches, put signing up for the service on your to-do list for today. The intelligence and data Search Console provides is like nuggets of gold just waiting to be mined. Business owners, website managers, and digital marketers, regardless of their level of technical expertise, can use Search Console easily and apply the takeaways they learn to strategically enhance the performance of their website, including increasing traffic and improving conversions.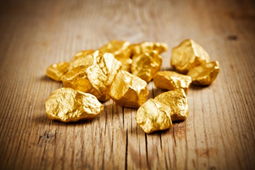 With Search Console, you can:
Monitor website performance
Submit content you want crawled for searches and remove content you don't want the search engine to index
See which search queries work best to bring visitors to your website
Track and monitor your site's backlinks (hyperlinks from other web pages to your own website or web page)
Be informed when an error occurs on your website, such as a broken link, missing page, or crawl error
Quickly, easily, improve your website's SEO
One especially important reason to be signed up for Google's Search Console service is to utilize the intelligence the data provides – those nuggets of gold – to improve your website's SEO. Without search engine optimization, your website stands little chance of ever showing up in a Google search or getting found.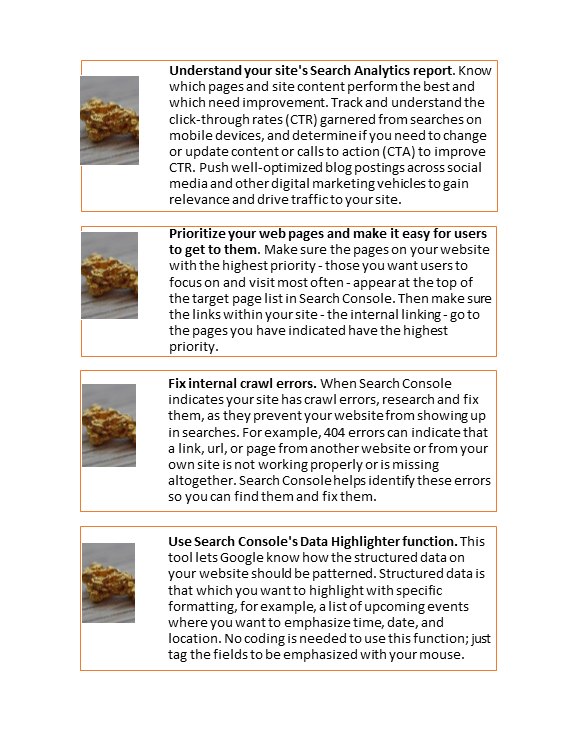 The following list provides ways to use those nuggets of information to quickly and easily improve your site's SEO.
Take advantage of all the functionality Google provides to monitor your website's performance and see where improvements are needed or things need to be fixed. When you systematically address the technical areas of your website that impact SEO, you both improve the ability of your site to rank well in searches and enhance the user experience across the entire site. The end results are well worth the effort. At Perfexion, Inc. we put our web development and web content expertise to work for you. We are a Philadelphia-based web design and development company located in Plymouth Meeting just outside King of Prussia. We specialize in making sure clients' websites are technically sound and perform to the best of their ability at all times. Contact us today.
Contact Us Today!
WEBSITE pfxn.com
E-MAIL hello@pfxn.com
CALL 610-783-7660
SAY HELLO