Website Issues – Technical SEO
Top 5 Website Issues
You've spent hours building and setting up your website. It's finally done. You set up analytics to track how well your website performs. At the end of that arduous journey, you even give yourself a pat on the back as congratulations for your accomplishment. Unfortunately, you're the only one passing out congratulations. Why? Because the average user finds the aesthetic presentation of your website unattractive and the organization and information lacking. Along the way, you failed to treat the design and development of your website the way you would build and design a bricks-and-mortar store.
A user's experience on a website should be every bit as good as a customer's physical in-store experience. Customers and potential customers who walk into a store off the street should feel welcome and be able to find what they're looking for quickly and easily. If the products in your store are set up willy nilly on the shelves, sales people shout out to you from opposite sides of the building, and dust bunnies float around your ankles, chances are good you are going to turn around and walk right out. The same holds true for your website. One mistake on your site is all it takes to destroy credibility in your business and can keep a user away for life.
Most people have heard the phrase "Build it, and they will come," and understand the meaning it espouses. But, the phrase "Build it well, and they will come" more correctly promotes the analogous idea that a website must be done well for people to not only come, but to stay and conduct business – shop, buy, call, contact – whatever you want them to do.
Most people look at a variety of websites on any given day, whether on their phones, their laptops, or their tablets. Most of these same people don't give the websites they view a second thought because these sites look nice, feel comfortable, and function properly. The user achieves whatever it is they went to the site for in the first place. In a word, their user experience is optimum. And when user experience is good, the website's bounce rate – the rate at which users leave a site after visiting just a single page – is low.
What do good websites have (or do) that bad ones don't? Because your website is your virtual store, ease and convenience of use are not all that matter. Consider the distinct aspects of your website's design and development, and how they might affect a user's decision to stay or leave. By addressing these appropriately, you ensure visitors have the best possible experience and will want to keep coming back for more.
Top Website Issues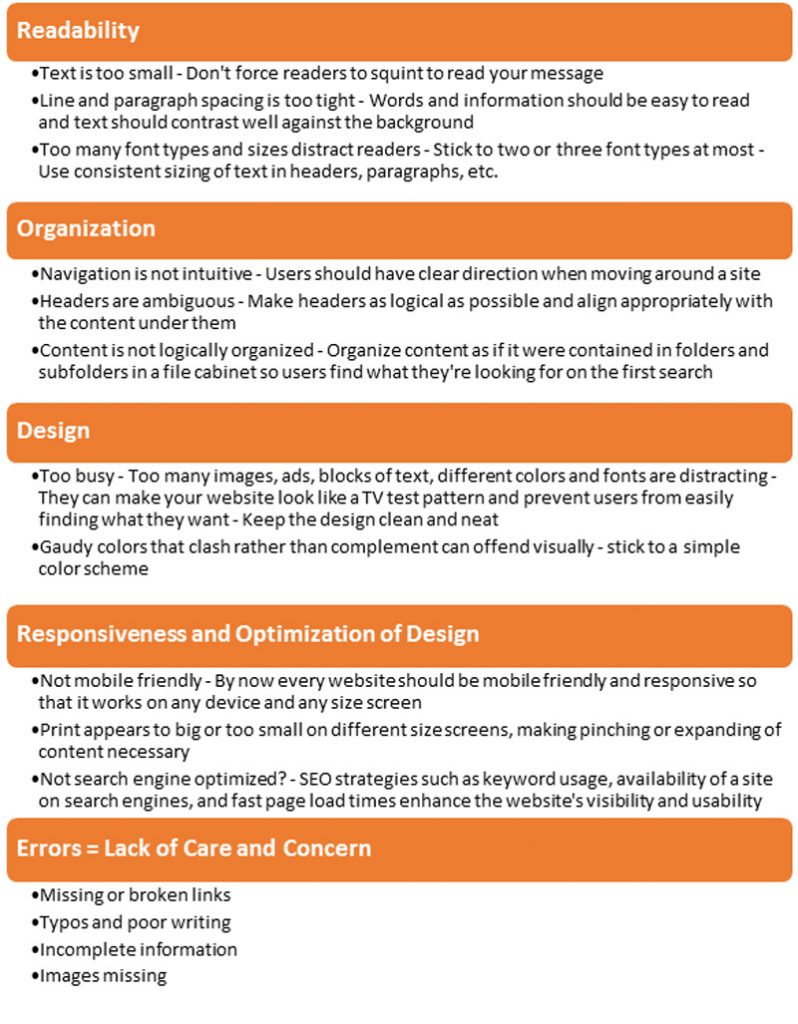 The design and function of your website is just as important as the information your site provides and the products and services you sell there. Professional web designers and developers are trained to build websites that appeal visually, function appropriately, attract users, and keep bounce rates down. Don't jeopardize the profitability of your business by building your own website and missing the mark on any of these key details.
Philadelphia web design company Perfexion, Inc. specializes in web design and development, including monitoring and managing the performance of clients' websites. They are experts at building brands and all types of online marketing. Because they thrive on helping clients be as successful as possible, they collaborate with you to understand your business and build a website that targets your ideal customer and increases relevant traffic.
Contact Us Today!
WEBSITE pfxn.com
E-MAIL hello@pfxn.com
CALL 610-783-7660
SAY HELLO