What is SEO? SEO Basics
Search Engine Optimization – SEO – is a tool used by web developers and digital marketers. Its purpose is to enhance the visibility of a website or web page in search engine results so that, when a user performs a search using their preferred search engine – Google, Yahoo, or Bing – the website or information the user searched for appears at or near the top of the list on the search engine results page, or SERP.
When a user performs a search, they enter a word or series of words in their search engine's search box and wait for the search engine to provide its results. The words a user types are called keywords, and users generally know the keywords they type should be specific, rather than general, to get the best results from their search. For example, if a user enters the word "sweater," they'll receive hundreds of billions of results. But, if they enter "fuchsia cardigan sweater under $20 in size 8," the number of results returned decreases considerably.
This type of search query is called a natural search, and the results returned are called organic or unpaid search results. In a matter of seconds, or split seconds, search engines process through billions of entries in their index and return results that are the most relevant to the search terms used. They analyze the keywords entered as well as the larger context of the query to match these with websites, web pages, etc., that are useful, informational, and relevant. These results are typically listed on the left-hand side of the search engine results page. Websites and webpages with a well-organized, well-managed SEO strategy have increased chances of appearing at or near the top of the list on SERP.
SEO Algorithm & Strategy
Early on, SEO relied on the repeated use of keywords and links in web pages. Copywriters crammed pages with keywords to the point the content was both awkward and poorly written – all in an attempt to outsmart the likes of Google. In time, search engines saw what was happening and updated and changed their search algorithms. In effect, so users would be satisfied with the search results they received and so businesses would improve the content on their websites and basically have to compete to appear high on the SERPs.
If you're starting to see a connection between users, websites, search engines, and search engine results pages, it's because one exists. A user performs a query using certain key words and phrases. A website is written and designed in anticipation of how a user – the business's target audience or customer – searches for the product/service offering or information provided on the website. Search engines look for web content that contains indicators of value in response to the user's search, such as links, images, and other relevant content on a website. The SERP lists websites/web pages that have the highest SEO relevance and value based on 1) how the user queried and 2) how valuable web content is.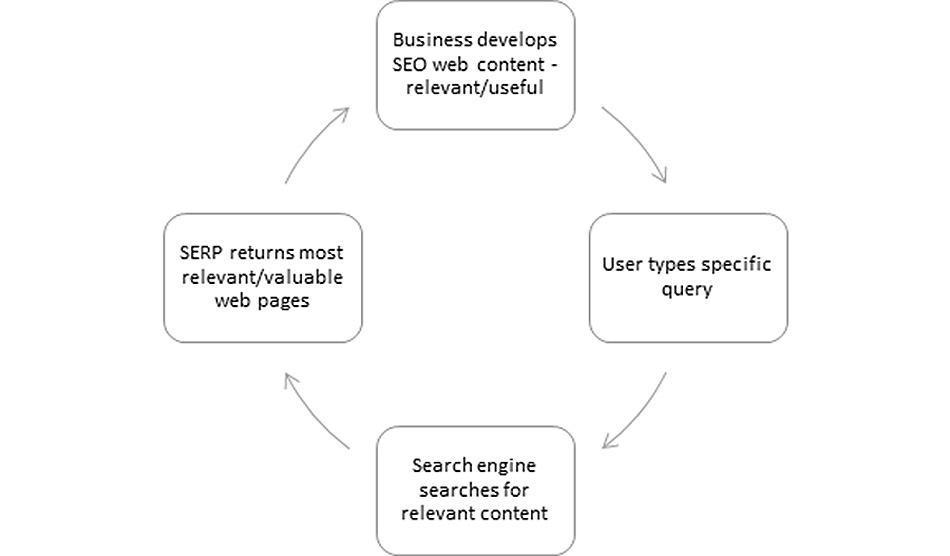 SEO Strategy
The successful marketing of any business online requires a thoughtful SEO strategy. SEO requires business owners and marketers to fully understand their audience – both existing customers and their target market – and work to align web content to react appropriately to what the customer wants and how they ask for it.
Businesses need to closely examine just how their target market searches for products/services online. Today, SEO and the power behind search engines go far beyond filling a web page with keywords and matching a user's search terms with the keywords on the website. That is because search engines rely on more than keywords when providing results to a query. They look for web content that is appealing. Content must be useful, informative, and interesting. It must respond to whatever type of request a user makes, whether it is to buy a product, solve a problem, learn how to do something, hire a service, watch a video, and more.
While SEO values the content that is visible on-screen, that is, the words, images, etc., everything that goes on behind the scenes – technical SEO – is equally important. Technical SEO is what helps search engines crawl to your website and index it. Web developers, those who handle the technical aspects of SEO, understand the techniques search engines use to access and crawl to websites, and they make sure their clients' websites are in alignment with those techniques.
SEO Audit & Strategies
Developers are necessary for improving SEO for a variety of reasons, such as conducting SEO audits to locate issues that impede crawling; eliminating duplicate content; fixing errors; and making sure content all links and pages work the way they're supposed to. They, along with digital marketing experts, follow all trends, practices, and updates relating to search engine optimization. As experts, they understand the trends and how they relate to the digital marketing efforts of their clients.
The web developers at Perfexion, Inc. specialize in SEO and the entire gamut of online marketing channels and strategies. They pride themselves on ensuring clients' SEO and digital marketing efforts perform at optimum levels and that their digital marketing investment always provides a positive return. We are a Philadelphia based web design and development company located in Plymouth Meeting just outside King of Prussia.
Contact Us Today!
WEBSITE pfxn.com
E-MAIL hello@pfxn.com
CALL 610-783-7660
SAY HELLO