In the age of the Internet, site speed is paramount. Smartphones and tablets, in particular, have revolutionized the way consumers search and shop for their goods and services. These days, consumers anywhere can, with a few quick keystrokes, connect with businesses both at home and abroad in a matter of seconds. Especially now that mobile search traffic has outpaced desktop search traffic, Google and other popular search engines expect all websites to load quickly on mobile devices of any kind. The bottom line, according to webmasters and SEO experts, is that optimizing for speed will enhance SEO and improve rank and visibility on results pages.
Google Unveils New "Speed Update"
Accounting for 3.5 billion searches daily, and approximately 1.2 trillion searches per year, Google has surpassed all platforms to become the leading online search engine. Every day, consumers rely on Google to answer questions, provide directions, and generate the most relevant and reliable results concordant with their searches.
To maintain its competitive edge, Google has been rolling out a series of policy changes and updates over the past several years that reflect the shift from desktops to mobile devices. In 2015, Google confirmed that mobile searches surpassed desktop searches for the first time, and as a response to this surge of mobile users, Google developed a "mobile-first" algorithm as a way to compel content developers to design their mobile sites first, prior to designing their desktop sites.
More recently, in June 2018, Google announced that site speed will be the primary ranking factor for mobile searches as well. Although site speed has been used as a ranking signal previously, it was focused exclusively on desktop searches. Google's aptly named "Speed Update," will prioritize page speed by down-ranking websites that deliver slow, low-quality loading experiences to users.
Although the "Speed Update" makes page speed a primary factor in determining the order of search results, Google has assured its users that page speed will not be the only criteria that websites need to meet. According to web analysts on Forbes, Google considers over 250 ranking factors to ensure that every website they index is delivering the highest quality results on the first page.*
Yet even with 250 ranking factors in play, webmasters agree that site speed and site design are two of the most important ranking factors Google takes into consideration, as they have the biggest impact on user experience. So let's explore why site speed, specifically, is so important in more detail.
The Need for [Site] Speed
In today's ever-changing and fast-paced world, speed is key. As consumers, we want everything—including food, information, money, and news—readily available to us with minimal wait time. This need for speed is most evident online, however, where consumers have even shorter attention spans and higher expectations than they do in the real world. Regardless of whether they are using a desktop or a mobile device, consumers expect the websites they visit to load quickly, without any issues or delays.
Recent surveys conducted by Google indicate that users expect websites to load within three to four seconds. Moreover, statistics show that 40% of users will likely abandon a website and attempt another search if the initial webpage doesn't load within three seconds or less.** These statistics may seem unrealistic, but they underscore the fundamental truth that a fast site helps you rank higher among the competition.
The issue of site speed is most pronounced on mobile devices, where the average mobile webpage takes approximately fifteen seconds to load. For e-commerce businesses especially, time is truly of the essence when a faster website offering identical goods and services is only a click away.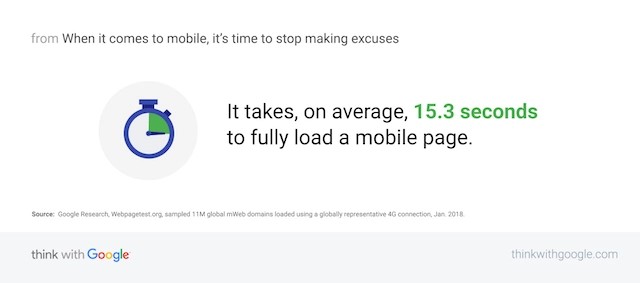 ****https://yoast.com/does-site-speed-influence-seo/#utm_source=twitter&utm_medium=social&utm_campaign=social_buttons
The goal for web developers, then, is not only to create a fast loading site, but to create the fastest mobile site possible. In so doing, web developers will simultaneously decrease their bounce rate, increase their conversion rate, and establish trust and brand loyalty with their client base.
Still, optimizing for speed is about more than enhancing SEO and improving rank and visibility on results pages. Loading speed is the first experience users have with a site; so if the site loads slowly, that first impression will likely be a negative one. Poor page performance and slow loading speed signals, at worst, a lack of respect for your customers and their time.
In sum, prioritizing site speed is the single most important factor when it comes to improving user experience. Sites that load quickly make for an enjoyable browsing experience, which means customers will feel compelled to browse more, buy more, and even tell others about your website. Additionally, adopting the "Speed Update" will keep you in Google's good graces — and rankings! Users who frequent your site are satisfied not only with the individual site experience, but also with the quality of results that Google provides.
SEO and Site Speed: Analyzing the Metrics
When analyzing the SEO of websites, site speed is one of the first metrics to be measured. Free resources like Chrome User Experience Report, GTMetrix, Lighthouse, and PageSpeed Insights can offer a more comprehensive picture of such metrics.
These resources provide valuable insights into site performance including: advertising impressions, affiliate clicks, engagement rates, and conversion and revenue rates. Additionally, these metrics allow you to see how well your site is reaching your target demographic, as well as how users interact with your site on both desktop and mobile devices.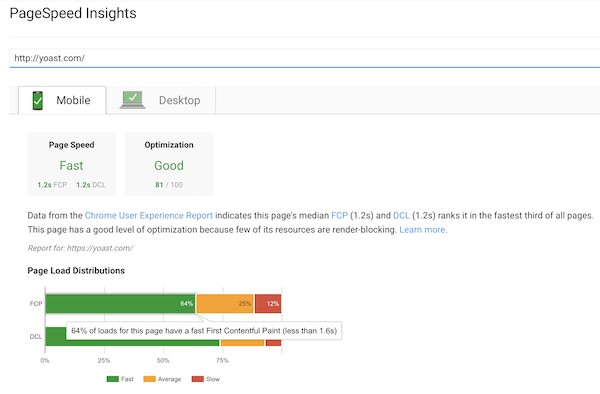 **** https://yoast.com/site-speed-tools-suggestions/
It is important to note that these speed tools do not always yield consistent results due to changes in location and internet access. When taken together, however, they offer a broad overview of who your users are, how they access your site, and what they do during their visit. They also measure page speed and optimization, and make suggestions about how performance can be improved.
For best results, you would do well to hire a professional marketing company with the expertise to develop websites that optimize for page speed on both mobile devices and desktops. If you need assistance making your website fast, responsive, and mobile-ready, Perfexion, Inc. is here to help! Our qualified professionals specialize in managing and maximizing clients' web content, ranking, and search results traffic.
Contact Us for more information!
WEBSITE pfxn.com
E-MAIL hello@pfxn.com
CALL 610-783-7660
SAY HELLO
* https://www.forbes.com/sites/jiawertz/2017/07/17/why-site-speed-design-can-make-or-break-your-google-ranking/#770de3a83ce9
** ^Same
*** https://yoast.com/does-site-speed-influence-seo/#utm_source=twitter&utm_medium=social&utm_campaign=social_buttons
**** https://yoast.com/site-speed-tools-suggestions/