The longevity and prosperity of local businesses is largely determined by the ranking, reputation, and revenue they generate over time. There are many ways to maximize ranking, reputation, and revenue, but inclusion in local business listings, both in print and online, remains one of the most effective and essential strategies to increase visibility and enhance bottom line results.
The Evolution of Local Business Listings
Local business listings provide the foundation for successful business marketing. In fact, listed businesses have significantly higher ranking, reputation, and revenue than their unlisted counterparts; especially if they are listed on multiple online platforms. Today, internet marketing is all but a necessity for local businesses. If your brick and mortar business does not also have a robust online presence, it might as well be invisible to consumers. But, how exactly did we get here and what are the advantages of web-based listings? Let's explore the evolution of business listings, including their ubiquitous online presence, in more detail.
In many ways, phone books were the progenitors of contemporary search engines like Google and Yahoo. Prior to the advent of the internet and the smartphone, the Yellow Pages were our main source of information for local businesses, products, and services. For local business owners, paid advertising in the Yellow Pages was the single most effective way to increase visibility among consumers. Over time, savvy business owners expanded their marketing efforts to include additional forms of offline advertisement such as newspapers, brochures, coupons, radio ads, and television commercials
While many of these marketing strategies remain prevalent, the growing consensus among business owners and marketing experts is that traditional, offline advertising is costly, competitive, and untenable in the long-term. Our fingers may still be doing the walking, so to speak, but customers no longer need to leaf through print brochures, directories, magazines, or newspapers to find the local businesses they need. In the Information Age, consumers anywhere can, with a few quick keystrokes, instantly connect with local businesses via digital listings on major platforms like Bing Places for Business and Google My Business Listing. Welcome to the future!
The Internet is Open for Business… Local Listings
Smartphones, tablets, and PCs have facilitated a vast and virtually constant online presence. Consider the following statistics: 96% of local searches are conducted by PC owners; 64% of local customers use search engines and directories to find local businesses; 50% of local mobile searchers search for business information (company name, address, or number); and 46% of all Google searches are local.* These statistics suggest that customers use the internet exponentially more than any other medium to search for local businesses.
Online listings are popular, in part, because they combine aspects of both digital and print marketing into one comprehensive index. Moreover, inclusion in many online directories like Bing Places for Business, Foursquare, Google My Business Listing, and Yelp is free. Whichever platform(s) you use to market your business, the
following components should be included**:
Business name/title
Address
Phone/fax number
Website URL
Categories
Description
Tagline
Social profiles
Images
Additional media
Certifications
Brands carried
Payment types accepted
Attributes
Done correctly, local business listings are extremely informative. From a single listing, customers can discover your business, find out where it is located, learn what products and services are offered, what offers and promotions are available, who the core clientele is, and how satisfied former and current customers are. Many local listings also support images, videos, virtual tours, and live links to social media profiles, thus enabling customers to interact with the business and/or business representatives directly.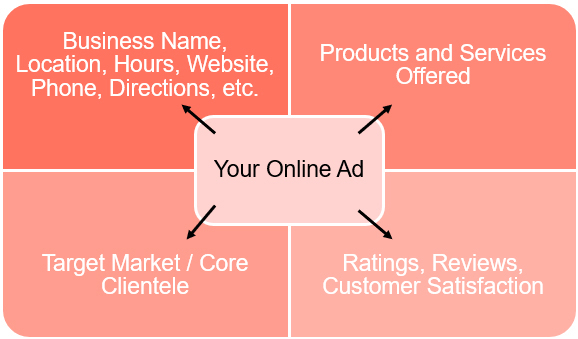 The quality of your business listing is directly related to your search engine optimization and how well you use keywords and key phrases. SEO is an essential component of improving your local search engine rankings and driving search traffic to your website. The more consistent and comprehensive your business listing, the higher your ranking, reputation, and revenue.
Choose Platforms with Caution
Digital listings have certainly revolutionized how local businesses promote their products and services. That said, however, the advertising potential of local business listings is contingent upon the platform(s) you use. A strong online presence is important, so you must choose local business directories that will enhance your Local SEO efforts. Ideally, you want your business information listed on platforms that generate high volumes of search traffic. Presence on major directories such as Bing Places for Business, Google My Business Listing, Google+, Facebook, Foursquare, Superpages, and Yelp means your business will be visible to a vast audience of local searchers.
Anyone who has performed a search for a local business recently knows the extent to which local directories dominate the initial pages of their search results. It stands to reason, then, that local directory marketing has a higher conversion rate than most other advertising options. Listing your business in the most relevant, quality directories increases the probability that your business will be searched for, and found by, the quality – and qualified – customers you want. As your business gains traction and spreads across the web, you can join more niche platforms specific to the industry and geography of your company.
Any data published about your business, whether in print or online, impacts the ranking, reputation, and revenue generated by your company. For this very reason, no local business owner can afford to publish information that is inconsistent or incorrect. In order for local business listings to be truly valuable, all data must be accurate, complete, and easily searchable. For best results, you would do well to hire a professional digital marketing company with the expertise to support all aspects of your online advertising, to include:
Ad design and development
Content development enhanced for SEO
Placement of the ad on the local listing directories of your choice
Monitoring and tracking how well your ad performs, and adjusting as necessary to improve results
If you need assistance creating an online listing for your local business, Perfexion, Inc. is here to help. Our qualified professionals specialize in managing and maximizing clients' web content, ranking, and search results traffic.
Contact us to learn more!
Contact Us Today!
WEBSITE pfxn.com
E-MAIL hello@pfxn.com
CALL 610-783-7660
SAY HELLO
* https://www.brightlocal.com/about-local-seo/
** https://moz.com/learn/seo/local-business-listing-components