For webmasters, content developers, and business owners alike, search engine optimization, or SEO, is an essential part of driving search traffic to your website. There are several ways to enhance SEO and improve rank and visibility on results pages, but switching your website from "HTTP" to "HTTPS" is an important, effective, and recommended strategy for increased optimization results, as well as increased privacy and security.
HTTP versus HTTPS: What's the Difference?
You probably recognize the familiar acronym "HTTP" that magically and mysteriously appears in your address bar every time you visit a website, but do you happen to know what it stands for or what purpose it serves? Moreover, are you aware of why the shift to "HTTPS" has gained so much traction and attention over the past four years? In 2014, Google officially announced that switching your website from HTTP to HTTPS will give you a minor ranking boost, but is that the only benefit? Let's explore the evolution of HTTP to HTTPS, including the pros and cons associated with each, in more detail.
HyperText Transfer Protocol, or HTTP, is the means by which information is sent and received across the Internet. In technical terms, HTTP is an "application layer protocol," which means that the data being communicated between the browser and the website is sent over in plain text. Although HTTP is said to be stateless, meaning that no attempt is made to remember specific information that is entered, the lack of a secure connection increases the likelihood that your data may be intercepted and exposed. This is especially concerning for those of us who use the Internet to pay bills or make purchases — two common activities that require our most sensitive information!
To prevent massive security breaches of personal information, HyperText Transfer Protocol Secure, or HTTPS, was developed to ensure that all information we view or send is secure. The chief difference between HTTP and HTTPS is that instead of acting as its own application layer protocol, HTTPS works in conjunction with two separate protocols — SSL (Secure Sockets Layer) and TLS (Transport Layer Security) — for added privacy and security.
Neither HTTP nor HTTPS are particularly concerned with how information gets from one point to another; so the SSL has the incredibly important task of ensuring that all information travels through a secure 'tunnel' to its ultimate destination. Without getting overly technical, the SSL also encrypts the information that is being sent, which means that the true meaning of your most sensitive data (bank statements, credit card numbers, and login information) is disguised, making it more difficult for a third party intruder to access or decipher.
The Benefits of Switching to HTTPS
As you might expect, HTTPS has faster speeds and connections than HTTP. This is because encrypted websites supporting HTTPS have already been certified as secure, whereas unencrypted websites supporting HTTP need to be filtered and scanned before connections can be established and user access can be granted*.
Most popular browsing platforms—Internet Explorer, Firefox, and Google Chrome—support HTTPS for more secure and streamlined Internet browsing.
Switching to HTTPS can improve SEO and the rank and visibility of your website on results pages.
In 2014, Google confirmed a rankings boost for websites supporting HTTPS. Although the exact percentage is hard to quantify, the value of switching has increased significantly over the past four years.
More accurate referrer data is another benefit of switching from HTTP to HTTPS. When traffic comes through HTTP websites, for example, it shows as "direct" traffic in the analytics report even though no information has been saved. Conversely, when traffic comes through HTTPS websites, referral traffic data is preserved. As a result, you can determine precisely where your search traffic is coming from**.
Websites supporting HTTPS provide enhanced privacy and security. First, by verifying that your website is the one the server is supposed to connect to, and second, by encrypting all communication (including URLs) which protects browser history, credit card numbers, and passwords.
Google Gets Serious About HTTPS
In June 2014, Google launched its "HTTPS Everywhere" Campaign in an attempt to create a more secure internet. Two months later, in August 2014, Google announced that switching websites from HTTP to HTTPS may give webmasters a minor rankings boost, as an added incentive to switch. Since then, Google has taken additional—some might argue even controversial—steps to compel more webmasters to upgrade to HTTPS.
One way Google is taking control of the HTTPS movement is by marking websites that do not support HTTPS with a bright red "X" over the padlock icon in the URL bar. The purpose of the red "X" is to classify HTTP supporting websites as unencrypted, and therefore, unsafe. Last year, in January 2017, Google took their campaign one step further, and began showing "NOT SECURE" warnings on HTTP pages featuring credit card and password fields.
Presently, even more serious changes are on the horizon for users of Google Chrome, and they will be rolled out in two stages. In the first stage, which is set to begin September 2018, Google Chrome will no longer display a green "warning" icon in the URL bar for secure websites.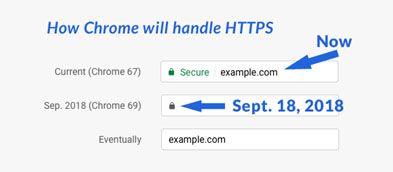 In the second stage, beginning October 2018, Google Chrome will display a prominent red warning on all HTTP supporting websites indicating that those sites are "Not Secure." This new interface serves as an aggressive reminder that all HTTP websites are insecure, and that HTTPS will officially be the default state of safe websites.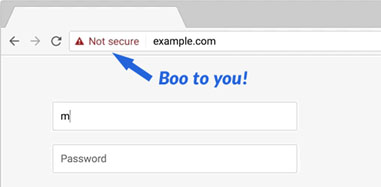 Data source for both images: SEJ
https://www.searchenginejournal.com/chrome-browser-https/253801/amp/?__twitter_impression=true
Takeaway: Embrace the Changes
For those of you who have been on the fence about switching from HTTP to HTTPS, the time has come to make a decision. Not only will upgrading to HTTPS keep you in Google's good graces, but it will also protect your website against third party hackers trying to intercept sensitive information.
According to web experts***, more than 50 percent of internet browsers worldwide use Google Chrome, so these changes will impact users across the globe. Even if your HTTP website is safe, the blanket warning issued by Chrome may scare off potential visitors, prompting them to leave your site. In short, failure to upgrade to HTTPS may negatively affect advertising impressions, affiliate clicks, site traffic, and overall revenue.
Heightened privacy and security for your site, increased optimization, and a safer Internet for all users are just a few of the reasons why switching from HTTP to HTTPS is beneficial. If you want to learn more about HTTPS, or need assistance changing your entire website from HTTP to HTTPS, Perfexion, Inc. is here to help. We specialize in managing and maximizing our clients' web content, ranking, and search results traffic.
Contact us to learn how we can make your
website
more secure and keep your
SEO
efforts and strategy strong.
WEBSITE pfxn.com
E-MAIL hello@pfxn.com
CALL 610-783-7660
SAY HELLO
* https://blog.easynews.com/http-vs-https-whats-the-difference/
** https://www.searchenginejournal.com/pros-cons-using-https-small-businesses/168937/
*** https://www.searchenginejournal.com/google-sets-https-deadline/236225/
"Google Sets Deadline for HTTPS and Warns Publishers to Upgrade Soon"